CUSTOMIZABLE SURFACE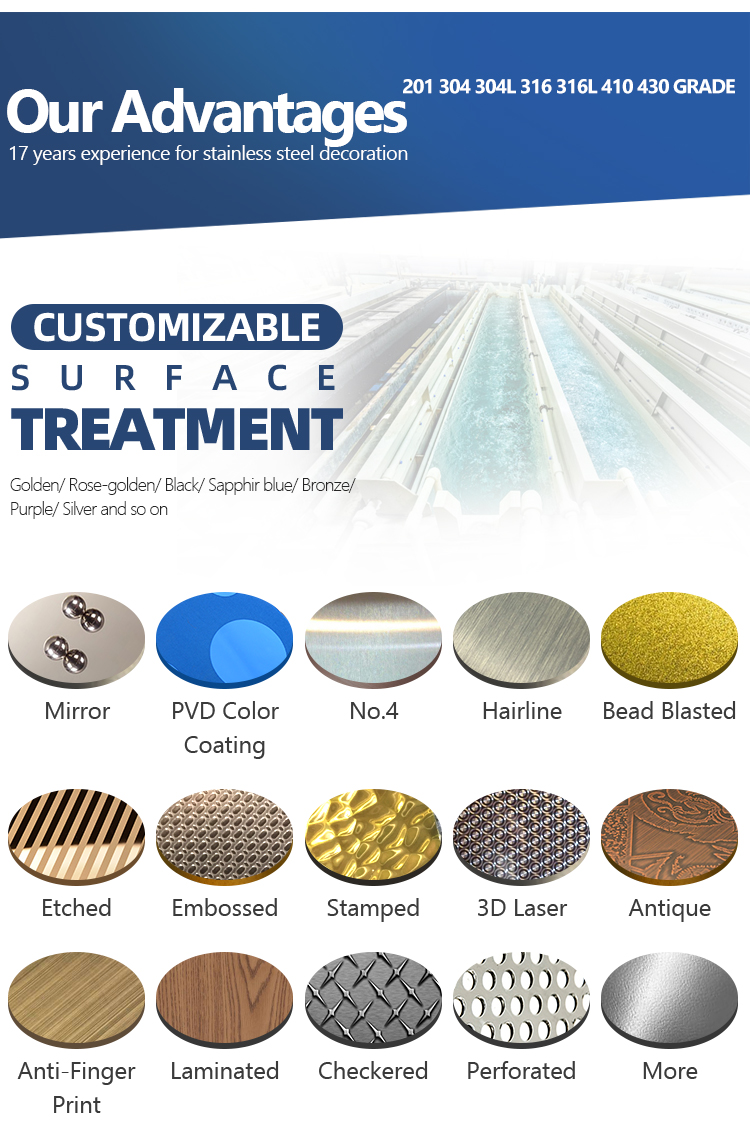 The production process of PVD color coating on stainless steel sheets involves the following steps:
1. Surface Preparation: The stainless steel sheets undergo thorough cleaning and surface preparation to ensure the removal of any dirt, grease, or contaminants. This step is crucial for achieving good adhesion between the PVD coating and the stainless steel surface.
2. Loading: The prepared stainless steel sheets are loaded into a vacuum chamber, which is a controlled environment for the PVD process.
3. Pumping Down: The chamber is evacuated to create a vacuum environment by removing air and other gases. This is important to ensure the purity of the deposition process and prevent contamination.
4. Preheating (Optional): In some cases, the stainless steel sheets may be preheated to a specific temperature. Preheating can enhance the adhesion of the PVD coating to the stainless steel surface.
5. Metal Deposition: The PVD process involves the deposition of metal atoms or ions onto the stainless steel sheets. This is typically achieved through one of the following methods:
a. Physical Vapor Deposition: A solid metal target, typically titanium, zirconium, or chromium, is bombarded with high-energy ions in a process known as sputtering. The metal atoms are then vaporized and deposited onto the stainless steel surface.
b. Cathodic Arc Deposition: A high voltage is applied to a metal cathode, causing a metal vapor to be generated through an electric arc. This vapor is then directed toward the stainless steel sheets.
6. Color Coating: During the metal deposition process, reactive gases such as nitrogen or a mixture of nitrogen and acetylene may be introduced into the chamber. These gases react with the metal atoms, forming metal nitrides or carbides, which create the desired color effect on the stainless steel sheets. The composition and ratio of gases can be adjusted to achieve specific colors and finishes.
7. Cooling and Venting: After the deposition and color coating, the stainless steel sheets are cooled to room temperature. The chamber is then vented to reintroduce air and restore atmospheric pressure.
8. Inspection and Quality Control: The coated stainless steel sheets undergo visual inspection and quality control measures to ensure uniformity, adhesion, color accuracy, and overall product quality.
9. Further Processing: The coated stainless steel sheets can undergo additional processes such as cutting, shaping, forming, and surface treatments as required for specific applications.
The exact details of the production process may vary depending on the equipment used and the manufacturer's specific requirements.
Application of PVD color coating stainless steel sheets